All breakfasts are cooked to order, using local produce where ever possible. All our preserves and muesli are homemade by Victoria. Our eggs free range and our sausage is, of course, Cumberland.
Breakfast is served between 8am to 9am.
We have been awarded a 5 out of 5 rating from South Lakeland District Council for food hygiene and as of March 2015 we were given a healthy eating menu award by the by South Lakeland District Council.
The Menu
Help yourself to: Orange juice, selection of fruit and cereal, homemade muesli,
homemade jam, homemade orange marmalade, honey and yoghurt.
———————–
Thick white and wholemeal toast will be served to you.
———————–
The Invergarry English Breakfast
Cumbrian grill 
bacon, Cumberland sausage, tomato, mushrooms, fried bread, beans & a free range fried egg
Mushrooms on toast

Seasoned with a sprinkling of mixed herbs and black pepper
Scrambled eggs on toast
Omelette
Served either plain or with any of the following:- mushrooms, cheese, ham or tomato
Croque-monsieur
Toasted ham and cheese sandwich
Porridge

Made with milk or water and served with a jug of warm milk
English Muffins

Toasted muffins with butter
Breakfast Sandwich

White or brown bread with any of the following fillings:- bacon, Sausage, fried egg
Beans on toast

Served with two slices of white or brown bread
Filter coffee or freshly brewed tea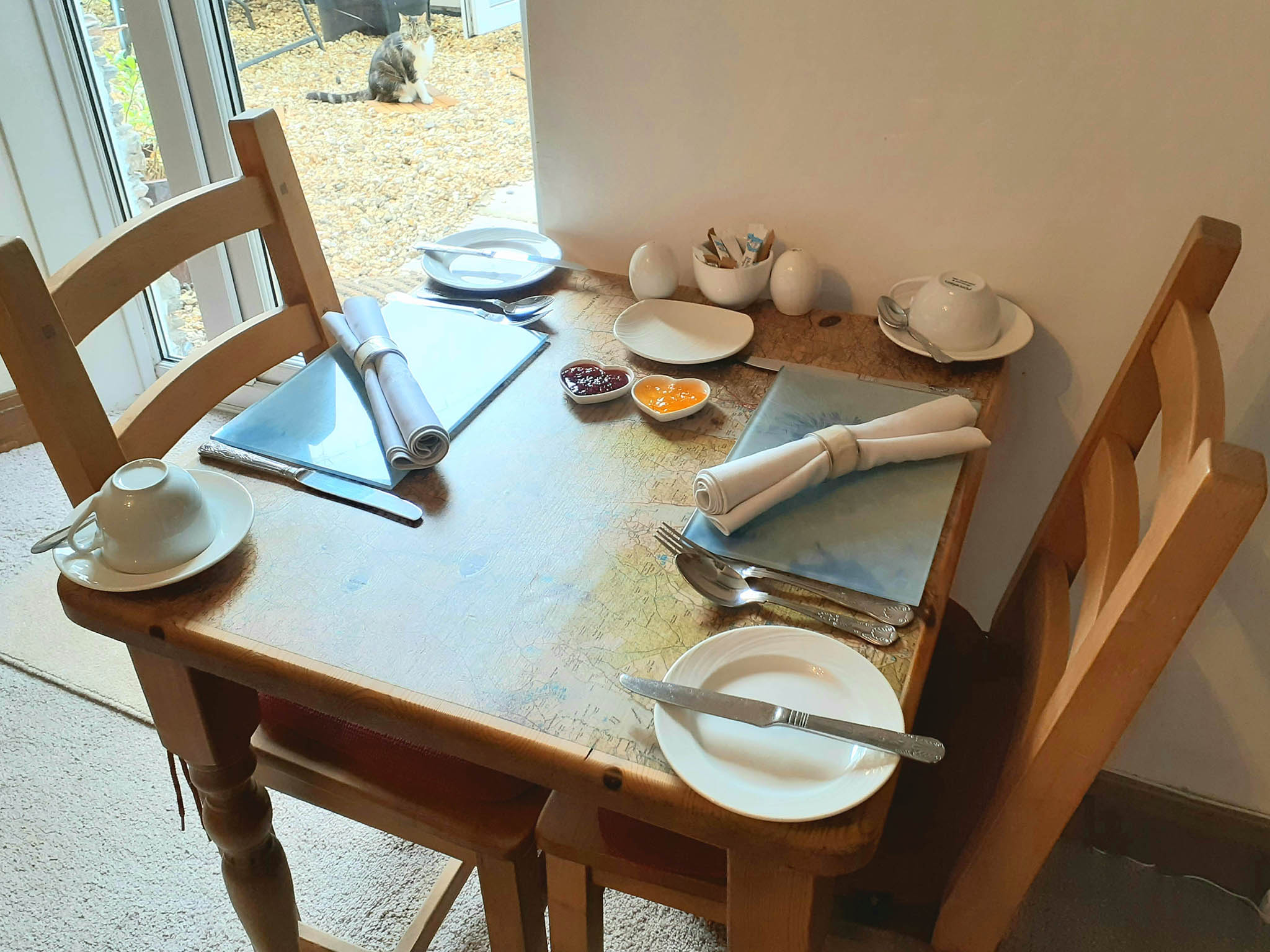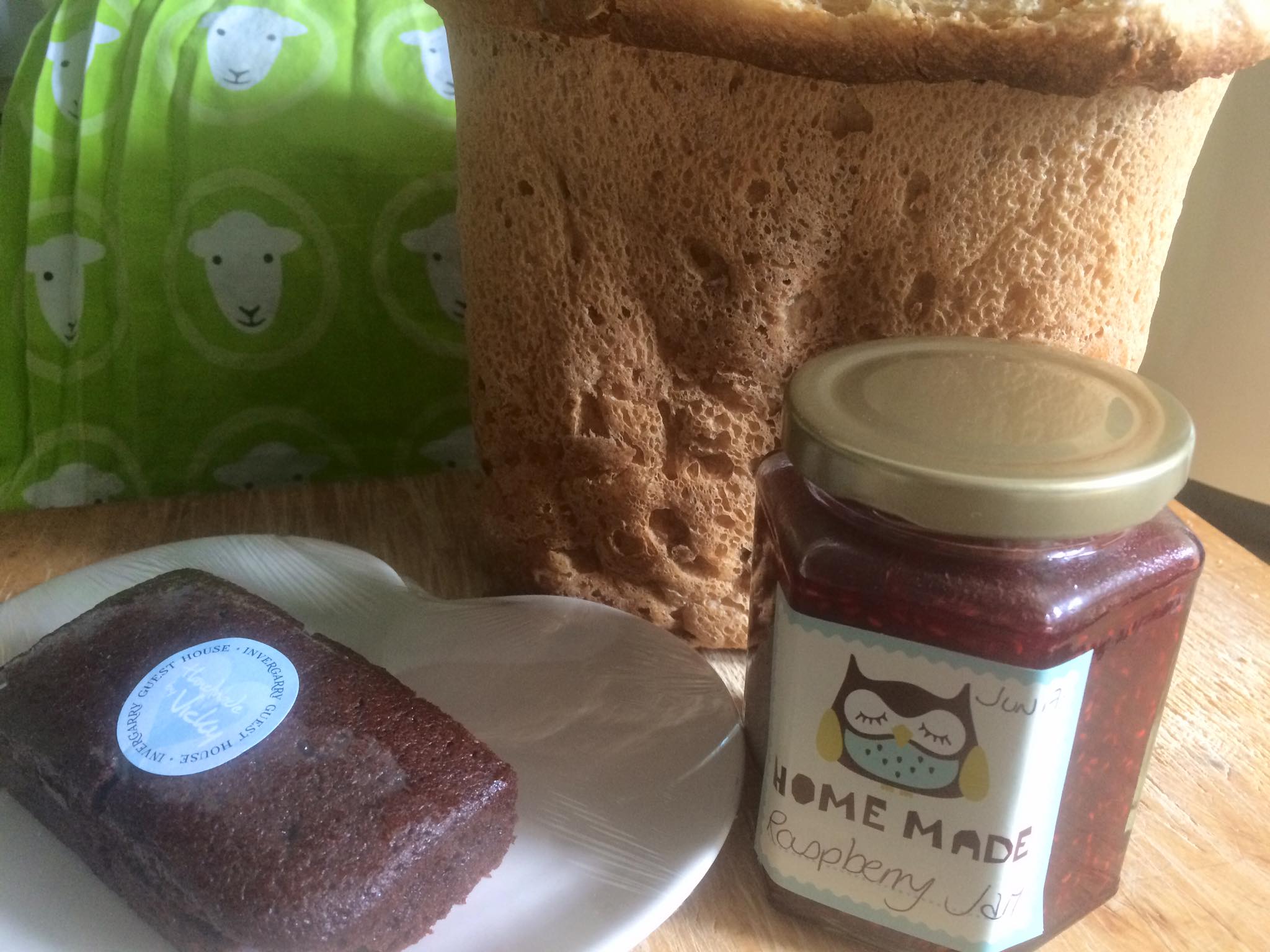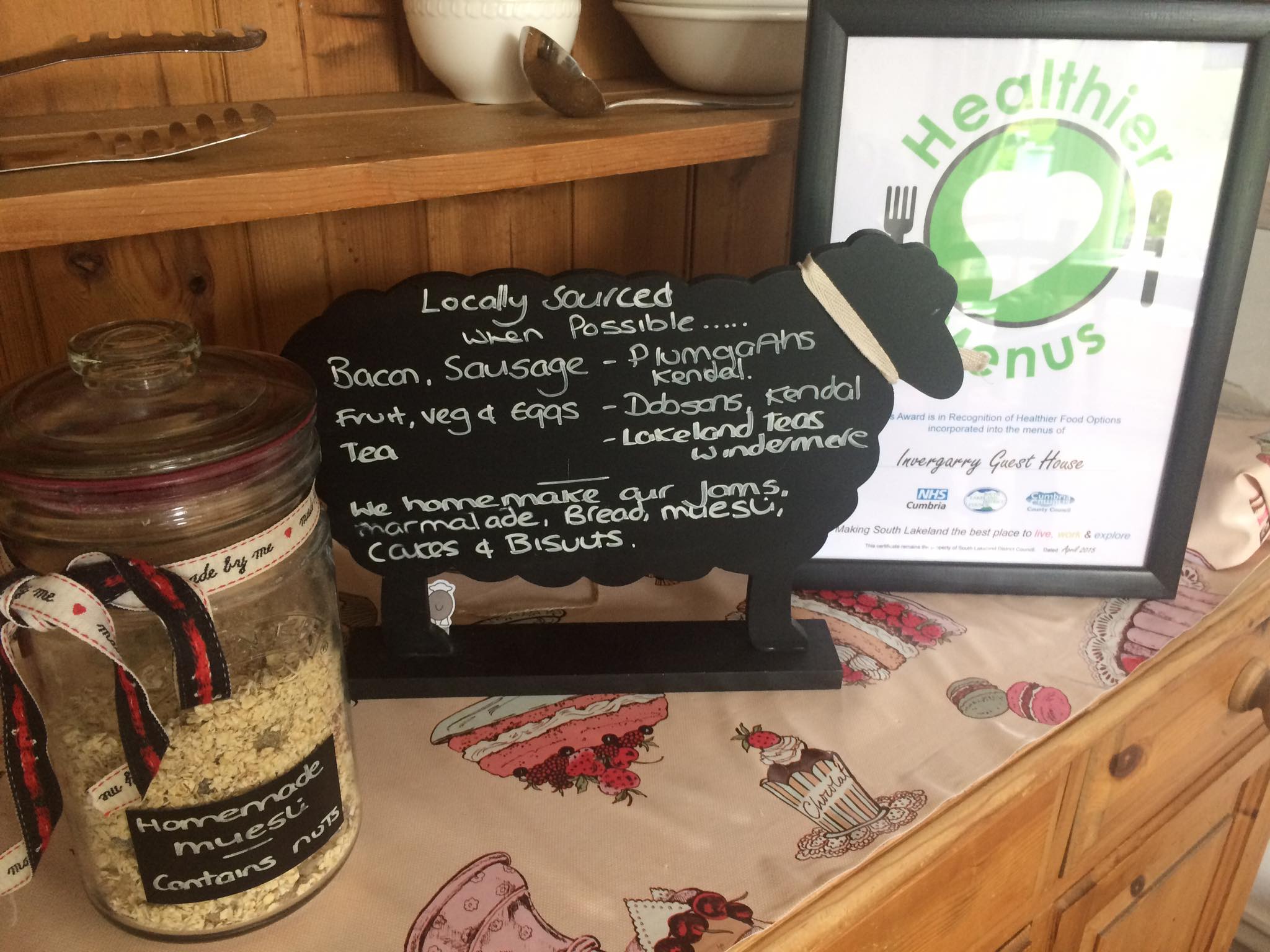 Find out more about your stay
Guest information
Essential information including arrival and departure times. Please note we do not allow under 18s at this property.
Contact us & save…
BOOK DIRECT
For our best room rates and latest seasonal offers, please book using the link below or call us on +44 15394 44561
Keep upto date
FIND US ON FACEBOOK
For all our latest news, local events and stunning Lakeland photography follow our Facebook page.

A long overdue return to the Lake District where we honeymooned 34 years ago. From the moment we arrived to a very warm welcome, Vicky and Steve did everything possible to help us enjoy our visit. Our room was spotless and very comfortable. Their attention to extra details such as home made cake and real coffee in our room made it extra special. Breakfasts were gorgeous with homemade bread, jam and marmalade. As well as the hearty and delicious Cumbrian grill, lighter options were available. Thank you Vicky and Steve we would love to return and would recommend Invergarry wholeheartedly to others.
WEDDING ANNIVERSARY WEEKEND, APRIL 2017
Vicky and Steve made us feel very welcome from the moment we arrived at Invergarry. The garden room is fabulous, to have breakfast brought to you whilst sitting in such brilliant surroundings is such a luxury. Don't even get me started on breakfast... home made bread, muesli, jam and marmalade, the tastiest scrambled eggs and then the pancakes... my waistline didn't like it but it was sooo worth it!!
HOME AWAY FROM HOME, JULY 2017
From the moment that we arrived, until checking out, we were made to feel like part of the family. The owners were more than happy to give us a helping hand whilst planning our daytime activities. They also gave us the daily weather forecast over a tasty and well-cooked Cumbrian breakfast. Our only negative comment is that we could not stay longer, as we enjoyed it that much. Words can not express how much we enjoyed our stay and would highly recommend this accommodation to anyone visiting Windermere.
PERFECT WEEKEND GETAWAY, JULY 2017